Growth Marketing For Roofers by Alex Sezer - Using Key Beliefs & Culture!
College Station, United States - August 16, 2023 / RoofingSites.com /
In the evolving landscape of digital marketing, staying ahead is crucial for businesses of all sizes. RoofingSites recently highlighted a breakthrough approach to help roofing contractors navigate the complex world of online marketing. In a recently published video/blog, Alex Sezer offers growth hacks for roofers, focusing on the integral roles of core values and culture.
Decoding Digital Marketing for Roofing Contractors
With the increasing demand for digital marketing strategies tailored to the roofing industry, the video/blog offers invaluable insights. Generic marketing strategies often overshadow roofing contractors. This piece directly addresses this oversight, providing tailor-made advice that resonates with roofing contractors.
Lead Nurturing and Its Significance:

The article sheds light on effective techniques for maintaining consistent communication with leads, ensuring they are well-informed and primed for conversion.

SEO Explained for Roofers:

Highlighting the best practices and tools that can position a business at the top of search results, the piece demystifies SEO for roofing contractors.

Unlocking the Potential of Mobile Search:

Overlooking the power of mobile search can be a costly oversight in today's smartphone era. The blog offers actionable insights to leverage mobile platforms, ensuring roofing businesses are easily accessible and top-of-mind for potential clients.
A Fresh Perspective on Core Values and Culture
"Roofing contractors need to understand that in today's competitive digital landscape, it's not just about visibility—it's about making a lasting impression," stated Chris Hunter, owner of RoofingSites. "Consider a homeowner urgently seeking a roofing repair. They might start their search on a mobile device during a lunch break, switch to a desktop in the evening, and finally call a roofer the next day.
This multi-device journey requires a roofing contractor's digital presence to be consistent, relatable, and reflective of their core values. A critical success factor for roofers is ensuring their online brand is consistent with their offline work. This consistency creates a seamless experience for potential clients, from their first Google search to the final handshake after a job well done."
Alex Sezer's piece underscores the significance of core values and culture in shaping a roofing contractor's online success. A business's values resonate with its audience, establishing trust and fostering lasting relationships.
Harnessing the Power of the 4R Roofing Marketing System 
The article introduces readers to the innovative 4R Roofing Marketing System, a performance-based framework that promises to redefine digital marketing for roofing contractors. With its proven strategies, this system offers a roadmap for businesses to enhance their online visibility and effectively convert leads.
To get more insights into Alex Sezer's growth hacks for roofing contractors, visit RoofingSites' blog post at https://www.roofingsites.com/blog/roofer-growth-hacks-with-alex-sezer-core-values-culture/.
About RoofingSites
RoofingSites, a leading digital platform dedicated to the roofing industry, empowers roofing contractors to harness the potential of digital marketing and grow their businesses through a range of resources, including blog articles, tools, and expert advice.
Because digital marketing is the best strategy for roofing companies, get superior digital marketing services with the experts at Roofing Sites - call (888) 308-2168 and out-market the competition!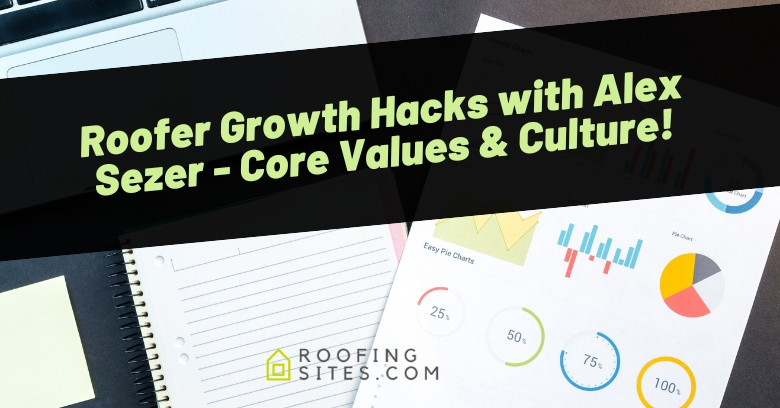 Contact Information:
RoofingSites.com
1511 Texas Ave
College Station, TX 77840
United States
Chris Hunter
(979) 314-7067
https://www.roofingsites.com/

Original Source: https://www.roofingsites.com/blog/roofer-growth-hacks-with-alex-sezer-core-values-culture/